CO-FOUNDERS' AGREEMENT: Important clauses to be taken into consideration
By Neha Agarwal May 13, 2017
---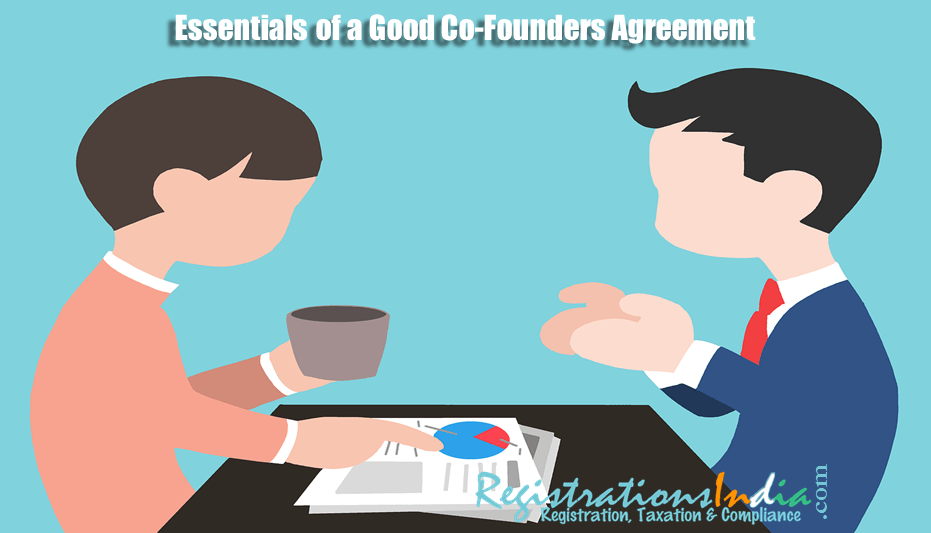 CO-FOUNDERS' AGREEMENT: Important clauses to be taken into consideration
You have conceived a million dollar idea for your start up or you may have nascent inkling to start a new business with your buddies.
Sooner or later there will come up a need to draft a co-founders agreement.
Why?
Your co-founders may be your best friends; you may kick-off really well but as the business expands and grows there needs to be some agreement governing the professional relationship between the co-founders.
To have clarity of certain issues like who is going to take care of what (allocation of responsibilities), who is going to shell out how much from their pocket (Contribution of each co-founder), how much time is going to be devoted by each of them, deciding what is it exactly that has to be the end product (defining the purpose), what is the profit sharing ratio going to be (in case there is profit) and many other such details depending upon the structure and the nature of the business-in the initial phase of the business makes the road smoother.
First things first: The Why?
Why this business? What is the purpose? What is it that you are trying to achieve?
Before drafting the co-founders agreement these are some indispensible questions that need discussion and agreement otherwise if the goals are not aligned then how will you know if you have achieved them - the vision of the "future business". It is important to clearly define the goals, values, vision and philosophy before taking any actions so that all the co-founders are on the same page as to the purpose of start-up.
What does a co-founders agreement cover?
Roles and Responsibilities: The role of each co- founder should be clearly defined – for example: if a start-up's aim is to create an online website for law students then roles for each area can be specifically assigned to each partner/co-founders like- Editor, Finance and Operations manager, Content manager, General manager, CEO, Columnist, Consultant etc. The responsibility is particularly in terms of time that each individual is going to dedicate to their role.
However, in the initial stages much rigidity cannot be attached to each and everyone's role. Such designations can be a guide when an individual is torn between two tasks – if one is of finance and other is of marketing- then a person designated with the role of Finance manager will prioritize finance over marketing.
Decision making- Settlement of conflicts
Conflicts are bound to arise when multiple minds are at work. Whether the market should be restricted to domestic or go international? Whether business should be restricted to online community or taken offline as well?
To solve the conflicts amicably certain clauses need to be included in the agreement. It has to be decoded which decisions need to be taken by individuals and which need to be taken through voting procedure.
Functional Hierarchy clause- In case of conflicts the person under whose domain the conflicting interest fall (decided as per the allocated role) will prevail.
Voting Procedure – Whether each vote has equal weightage or whether weighted voting procedure need to be followed. In case of a split vote, who will have the casting vote? In case of stale mate, whether third parties can be involved? If yes, then other what circumstances? Whether any advisor or a mentor can be approached? All such questions need to be clearly answered.
Arbitration clause – In case agreement cannot be reached within the co-founders then an arbitration clause can be inserted in the agreement to settle disputes.
Firing – It is difficult and uncomfortable for the co-founders to vote at times when firing of a member is in question. It is beneficial that certain circumstances are mentioned which would automatically lead to ouster of a member from the business- such as failure to meet milestones, sexual misconduct, misappropriation of funds, not showing enough commitment at work, taking up of alternative employment , etc. The economic interest of the ousted member shall then devolve upon the remaining members proportionately or as decided by them.
IP Assignment – When any business, financial or marketing plan is created, or any kind of rights are being used for the business such as codes, layouts, or any other content then Intellectual Property is being created. It is essential that such rights are not assigned in the name of any particular individual but in the name of the business entity. Many members separate when IP is assigned to the entity from them this restricts the business to grow and therefore such assignment should be done as soon as possible.
Equity ownership- To make sure that there are no grudges or hurt feelings among the members later on, it is imperative to decide upon the delicate issue of shares in the equity of the business when it is at the nascent stage. The criteria to decide economic interest or ownership can be based upon the 'Rule of N' – Division of interest based upon the number of founders. If there are 4 partners then each will get 0.25 share or on the basis of effort – partners who work only part-time or are working on non- core activities might get a different amount of share or on the basis of capital contributed – ( whether financial, social, intellectual or any other kind)- This method is more suitable in terms of 'fairness'. For example: if founder A has brought the idea and finance and Founder B has brought the ability to work hard and devote time then a greater proportion of economic interest can be in favour of Founder A.
Vesting or milestoning- Conditions or circumstances under which the company gets the right to buy back shares should be mentioned. Such as after passage of time, occurrence of certain events, or performing of assigned tasks.
Departure and dis-ownership – The procedure of dealing with the shares of a leaving co-founder is defined under this clause. It could be stated that the entity will have the preferential right to buy back the shares. In a small group of founders it is not a major concern but it becomes important for the investors.
Non-compete restrictions: Before this clause can be inserted it is important to define the current business so as to identify if the new business started by the member is actually a competing business or not. The time period within which a leaving founder cannot engage in a competing business should be mentioned.
Conclusion:
The list of the above mentioned clauses is not exhaustive and it is highly recommended that the co- founders should have a healthy and clear discussion and no stones should be left unturned before drafting the co-founders agreement. All other necessary clauses which might seem petty in the beginning might be included. This will avoid various gaps that might exist in the course of their journey to raise the idea that has been conceived.
Other Sources:
https://www.entrepreneur.com/article/236044
http://strtp.com/notes/founding/founder-agreements/
Image Source:
http://registrationsindia.com/media/2016/06/Essentials-of-a-Good-Startup-Co-founder-agreement-image.png
Tags:
---
Comments
0